VERTICAL HANGING GROWING BAG
Got little or no space around your home for growing plants? Ditch the traditional way with these space-saving garden wall panels. These trendy vertical gardens are professionally made & are very impressive. Anyone can now bring a vertical garden home! 
Our Vertical Hanging Growing Bag wows you with the below feaures:
✔️ Build your own little greenery indoors or outdoors
✔️ No fancy garden tools needed
✔️ Save tons of space!
✔️ Add life, beauty & a unique touch to your home
✔️ Eco-friendly, live the green life!
✔️ Guaranteed homeowners LOVE IT!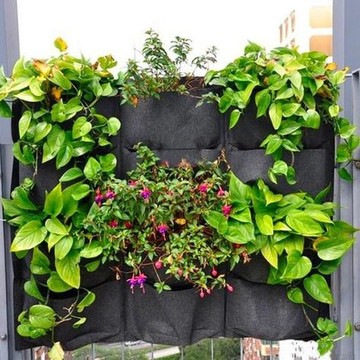 Simply hang
GreenGarden

 

on the wall, stack your plants & you're good to go!

�Fits several plants into one space

�Maximizing space & greenery

�Make watering plants easier

�A year-round supply of greens to your home!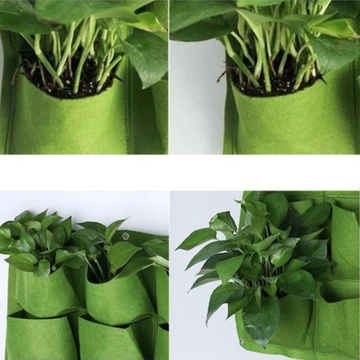 Make
fresh greens and herbs available,

all throughout the year!
Wall-mounted Pocket Panels
These vertical hanging wall planter gives you room to grow plants in a small space, apartment or a limited outdoor area!
Decorate Your Space
Finally! A perfect hanging planter for plants that not just turns any unused or plain area into a vibrant and lush vertical garden but also makes your space look stunning like never before!
Made of Eco-friendly materials non-toxic materials, safe and long-term use. Experience planting pleasure and receive good harvest
Convenient & Easy to use
Excess water will automatically drain through felt material. Soft felt, lightweight design for easy hanging and movement.
Superior design for home gardening
Simply utilize multiple vertical garden planters to create your vertical wall garden or living wall indoors or outdoors.
Suitable for a variety of plants
Each planting bags have flat pockets, grow any variety of herbs, perennials, succulents, houseplants or vegetables in just a single area at home!
Premium quality reusable felt material
Water-Retaining Felt material creates perfect soil conditions, which makes it perfect for either indoor and outdoor. Non-toxic, biodegradable, anti-corrosion and durable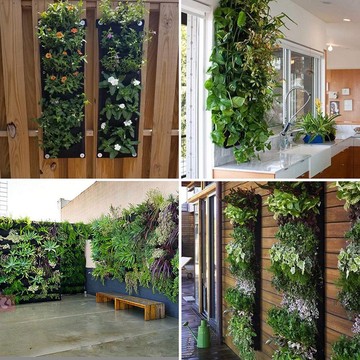 SIZE GUIDE
Pockets Quantity
Overall Pockets Size
Small Pocket Size
Planting Type
9
19.69 in x

19.69 in

5.91 in x 5.91 in
Can be placed in 9 flower pots

18

39.37 in x 19.69 in

5.91 in x 5.91 in

Can be placed in 18flower pots

36

39.37 in x 39.37 in

6.30 in x 6.30 in

Can be placed in 36 flower pots

64

39.37 in x

39.37 in

4.72 in x 4.72 in

Can be placed in 64 flower pots

72

39.37 in x

39.37 in

4.33 in x 4.33 in

Can hold 72 flower pot with a diameter of 90