Easy One-hand operation, Reusable, Weatherproof & Non-rusting, Spring Steel Wire Set of 20 Clip Ring's �10pc small 1�and 10pc large 1-3/4".

The clips are designed to Support and Protect Plant's, Flower's and seedling's to help securing plants Straightening from being Damaged or Break, Especially in the windy and rainy days, Or useful to direct to sunlight by attaching Plant stem to Cane, Pole, Arbor, Metal/Bamboo Garden Stake/Stick, Garden Cage, Plant Support Hoops, lattice, Fence/Gate Twine Trellis, Ladder, Rod, Cable, Yarn, Thread, Strand or Wire Netting or anything that can provide plant support.

Keep your Vegetables/Veggies, Flowers, Climbing and Crawling plants or small Trees together, like Tomato, Beans, Cucumber, Zucchini, Eggplant, Watermelon, Cantaloupe, Summer Squash, Sugar Snap Peas, Pumpkins, Baby Corn, Peppers, Grapes, Black-eyed Susan's, Vine, Hydrangeas, Honeysuckle, Clematis, Climbing Roses, lily's, Ivy, Jasmine, Mandevilla, Sunflower, Moonflower, Morning Glory, Nasturtium, Passion, Sweet Pea, Bougainvillea, Trumpet, Canary, Carolina, Madeira, Orchids, Humming Bird plants.

Quick and Flexible release design and Easy to use Add and Remove spring clips: Simply pinch the handles to open and release to trap the stem and the support in one easy motion. One hand is all it takes to pinch and clip, leaving your other hand free to insert the support and stem into the clip.

Protects delicate flowers and plants to hold your plants gently but firmly against Wind damage, saves you a lot of problems to worry about your plant. With this spring clip, it can hold plants firmly and tightly, protect a strong support for plants, Bolster fruit-laden branches won't harm plant or hinder growth.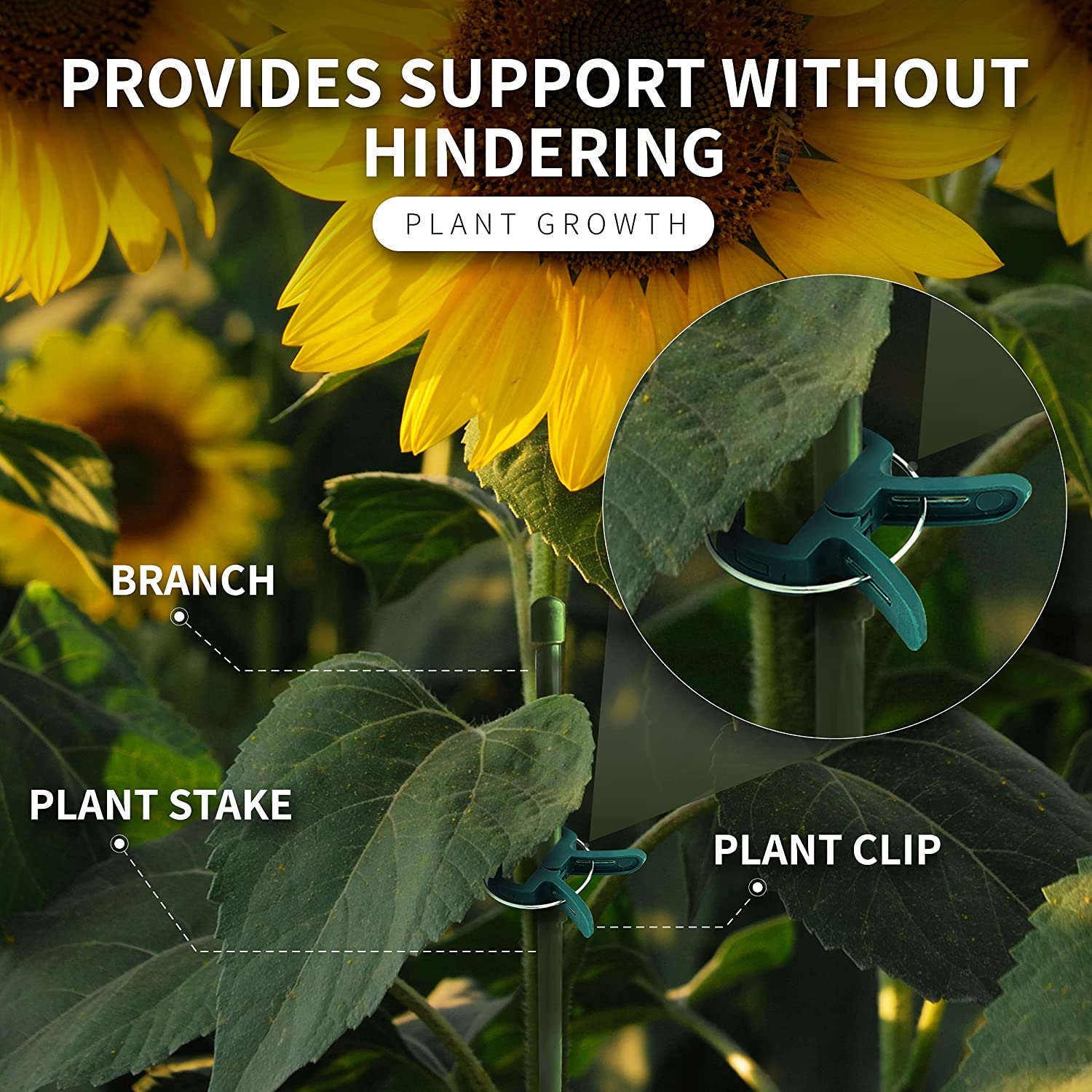 Quick and Flexible Design

The plant clips pinch comfortably with one hand operation, so you can quickly and easily gather foliage with one hand and simultaneously secure it to a stake or line with the other. These plant support clips are perfect for gently holding tomato branches up to stakes or cages.

Sturdy Material

Its quality, durable and flexible design keeps your plants secured for years. The clips are built with high quality plastic that don't choke off your stems as they grow. With this garden plant clips, support to your plant is done with one easy motion.

Secure and Reusable

The plant clips help your plants, flowers, and vines grow in a controlled upward manner. Reuse the clips over and over again by taking them down after the season and use them again next year. To apply simply pinch the handles to open, and release to trap the stem.

Multipurpose

The garden clips are great to help support growing of plants, flowers, tomatoes, cucumbers, beans, vine garden vegetables and peppers to grow upright. Also used for training vegetables and climbing plants.